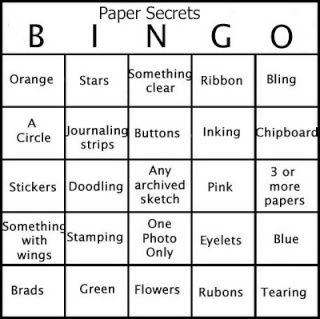 This was a fun challenge, I have never done a BINGO!
Rules: Archived sketches come from Pagemaps. Tells us month/year.
You can go vertical, horizontal and diagonal.
Can be a card or a layout.
Entries are due by Monday April 4th, 11:59pm PST
Upload your project to the gallery album titled "BINGO" & you will be entered to win a great prize!
I chose to use a
page map
from June 2010!
BINGO!
I also used:
Stickers
- the computer and pens
Doodling
- the cross stitches and straight stiches using my paper pizazz "Easy stitches" stencil
Pink
- One of the pen stickers is pink
3 papers
- Green pattern, Red star pattern & White cardstock
What fun I had this weekend! Hope you joined us and had fun too!
I have one more challenge to post in the morning after in dries. It is the remember when one as my Grand daughter just had her 2nd Birthday!